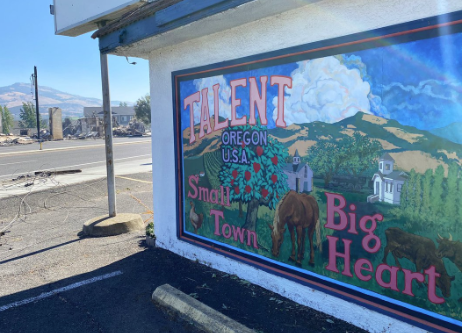 Without warning, the City of Talent found itself on the front lines of climate change in September 8, 2020, as scorching temperatures and high winds drove a wildfire through the city and neighboring towns. Hundreds of homes and businesses were destroyed.
Talent has been a leader in southern Oregon on environmental and climate change issues. The Oregon Clean Power Co-op will install a ground-mounted 75 kW solar + battery system on city property next to Talent's Community Center, at 110 East Main Street in Talent. The project will reduce the City's carbon footprint and electric bills, and will provide emergency power for the Community Center in the event the utility grid goes down. It will also produce enough power to offset most of the electrical use of Talent's City Hall and Town Hall.
Financing for the project will come from investment by community members, the Energy Trust of Oregon, and a Renewable Energy Development grant from the Oregon Dept. of Energy.