If you'd like to invest, please email us your:
Name (individuals only)
Address
Email
Phone number
Project you want to invest in
Amount you'd like to invest (multiples of $1,000 only)
We will email you a version of the Offering Memorandum and a W-9 you can sign electronically. You can also complete a paper version of the investment disclosures if you prefer.
In 2007, Corvallis High School received a grant to put a tiny, 2 kW solar array on its roof. Now, led by students in the school's Green Club, with the enthusiastic support of teachers, administrators and the 509J School District, the school and community are working together to put up a substantial solar system. The project will go on the roof of the school's gym.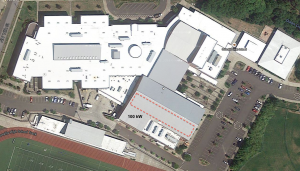 Plenty of room for more solar panels…